WTT is a Licensed Autism Education Trust Training Partner

The Autism Education Trust has 3 key documents settings can use when supporting autistic/social communication differences of their young people.
The Standards and the Competencies are auditing tools for whole school development and professional development.
The Progression Framework is used for individual children and young people to baseline social communication differences. This is a comprehensive tool which breaks key skills into 8 specific areas.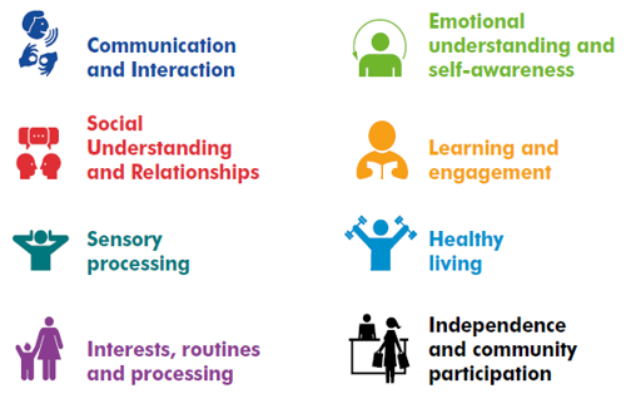 To find out more and to download the latest versions of the Competencies, Standards and Progression Framework click on the link below:
---
WTT deliver training and workshops centrally and bespoke to settings.
Autism Education Trust Professional Development Programme.
Making Sense of Autism
The aims
Available for Early Years, schools and Post-16 phases
Enhance your understanding and awareness of autism and the three areas of difference that affect autistic pupils.
Equip you with the knowledge you need to begin to make reasonable adjustments in the way you support autistic pupils.
90 minutes
FREE to Lincolnshire settings
Good Autism Practice
The aims
The aims of 'Good autism practice in Schools' are to support practitioners who work directly with autistic pupils to:
Available for Early Years, schools and Post-16 phases

Develop their knowledge and understanding of good autism practice.

Reflect on and improve their practice in working with autistic pupils.

Understand strategies and approaches they can draw upon for autistic pupils they work with.

Reflect on the kind of information they need to collect for the one-page profile and for the pupil-centred education plan.

Consider how to involve the autistic pupil and their family in the CYP's education.

Enhance and embed inclusive practice for autistic pupils.

6 hours delivered flexibly

Cost is £30 pp via a central course or £300 in-house (up to 30 attendees for 2 trainers)
Progression Framework
The aims
The aims of this module are to enable delegates to:
Address skills and understanding that children may find difficult as a consequence of their autism
Recognise and build on children's strengths and interests and improve overall wellbeing
Appreciate that children may need support in these areas and that their progress is dependent on this support
2 hours
FREE to Lincolnshire settings
Anxiety module
The aims
After completing this module, you will be able to understand:
How autistic CYP might express anxiety.
What can cause anxiety in autistic CYP.
What you can do to prevent and reduce anxiety in autistic CYP.
2 hours
Cost of £10pp or £150 for a whole setting
Exclusions module
The aims
The aim of this module is to enable delegates to:
Understand the legal context of autism and exclusion
Understand the risk of illegal exclusion and how to avoid it occurring
Better understand the triggers and ways of managing distressed behaviours
2 hours
FREE to Lincolnshire settings
Leadership, Inclusion and Structural Reasonable Adjustments
The aims
The aim of this module is to enable delegates:
To look at how inclusive provision and structural reasonable adjustments can help a setting to be outstanding.​
To consider what is needed to lead culture change in a setting.​
To know about AET resources and guidance that can support leaders to provide inclusive environments through structural reasonable adjustments.​
To consider different ways of making structural reasonable adjustments to ensure autistic pupils are fully supported.
3 hours
FREE to Lincolnshire settings
AET Post 16 Transition to Employment
The aims
Explain the recruitment barriers autistic young people face in accessing employment opportunities.
Promote the benefits of employing autistic young people for employers.   
Effectively use the tools within the Transition to Employment toolkit to prepare and support autistic young people into work experience/employment opportunities.  
Guide employers to implement accessible recruitment and selection processes, and workplace adjustments for autistic young people.  
Improve inclusive work experience/employment opportunities for autistic young people. 
5 hours
FREE to Lincolnshire settings
£10 refundable deposit for central training bookings