I have an autistic child
Autism is described as a lifelong, neurological difference of development that can affect the way a person communicates, interacts and processes the world around them.
Autism is a spectrum condition which is different for every person.
Spectrum means that an autistic person may have a wide range of differences and intensities meaning everyone's autism is different and unique to them. Each person will have different strengths, characteristics and difficulties/distresses. It doesn't mean they have something missing, are ill or need 'curing' it's just a different way of being and how we help may need to be different
"When you've met one autistic person, you've met one autistic person"
Some people call it Autism Spectrum Condition (ASC) Other people might say Autistic Spectrum Disorder (ASD) or Asperger Syndrome. Some autistic individuals might say they are autistic, I am an autistic person, or they have autism, it depends on their preferences.
We are all unique and different in our own ways.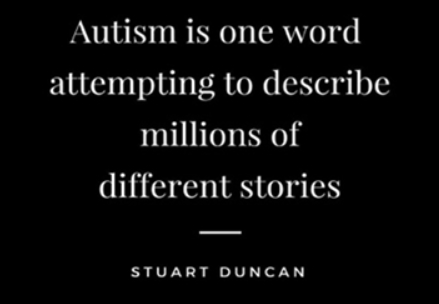 The key to understanding autism is to try to find out how an autistic person is experiencing the world around them, so the more your child can tell/show you, the more we can learn where they might need some extra help.
Where do we start?
Let's see what The National Autistic Society has to say in the video below
Go to https://www.autism.org.uk/advice-and-guidance/what-is-autism for more information.
2. Focus on their strengths and interests
Having an autistic child can be worrying, frightening, confusing and exhausting for us and especially for them. We also know through working with schools and families that your children are.........

Make a list, or an All About Me poster, use pictures with your children/young people of things they are excellent at, things they do well. What they are knowledgable and passionate about.
3. Try completing the Paper Chain of Strengths activity with your child/young person created by understood.org.

This is a great visual activity to help showcase their strengths and interests, and it can be on display anywhere as a reminder of how amazing they are! It can also help as a reminder for those times when they are finding something more challenging.
4. Everyone could have a go at filling in the Know Your Normal Toolkit© from Ambitious about Autism to help your child / young person know what 'normal' means for them and other people. 'Differences' are ok!

Ambitious about autism resources
5. You could try completing the Autism Education Trusts Priorities Questionnaire below with your child to help you both find out what they'd like help with.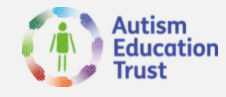 6. Share everything you learn with your child's family, friends and school if you think it would be useful in helping your child.
Please see the separate sections to find out more on specific topics you're interested in.
If you are worried about your child's mental health and wellbeing click on the Healthy Minds or CAMHS tabs for more information, help and advice