What do we mean by Communication
Communication is the act of sharing information by speaking, writing and/or using actions and/or using visuals.
Verbal communication is approximately
7%
The remaining
93%
are non-verbal cues including reading facial expressions, body language, tone of voice.
What do we mean by Interaction
Interaction is the two-way process where people or things communicate/ react with each other.
What do we mean by Social Understanding
The ability to communicate, engage, interact & disengage in a variety of social contexts and different people
Initiating & sustaining conversations & relevance of a topic according to the person and context
Understanding Interaction as a 2-way process between someone or something
Double Empathy – the ability to recognise other people's thoughts, feelings, beliefs and intentions
Having the skills to recognise emotions/body language/tone of voice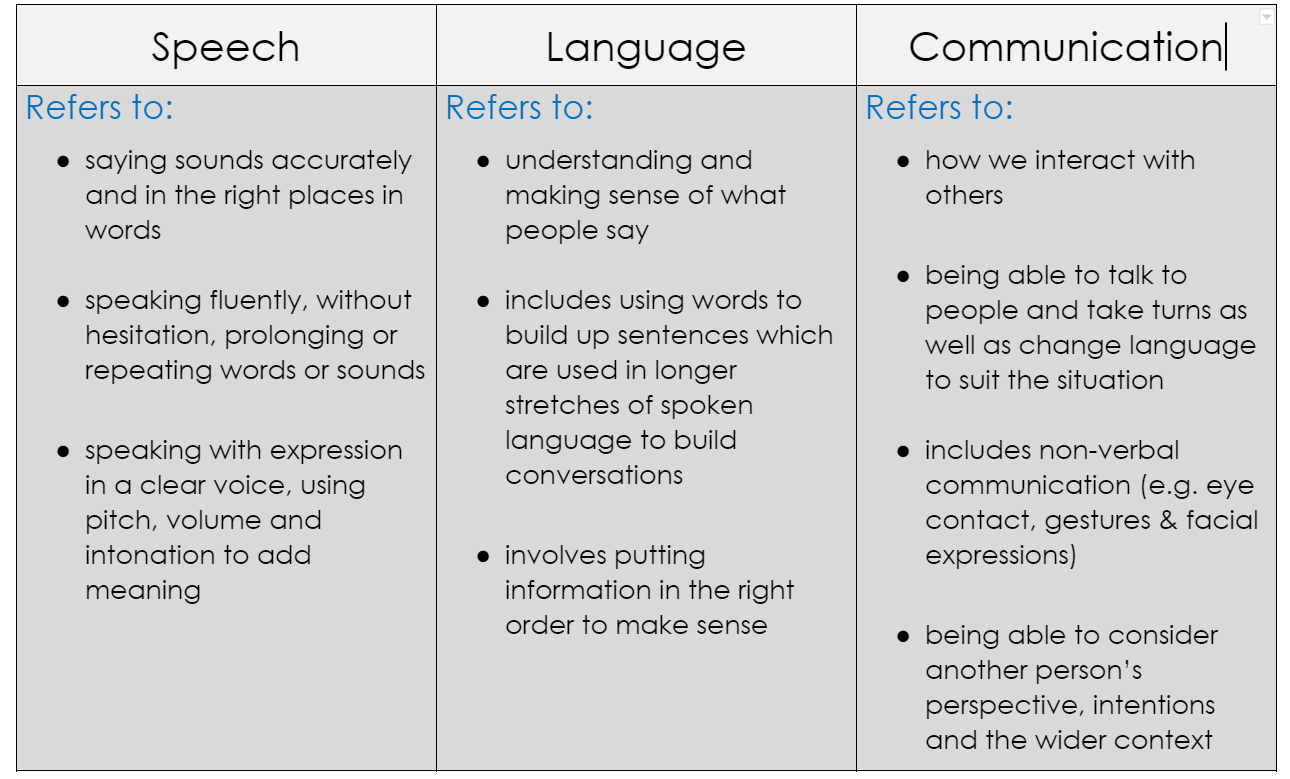 How Can We Help?
Before you and your autistic young person begin remember that they may be filtering a lot of sensory input or need a lot of sensory in order to process information so....
Know their profile, think about the best place these skills can first be practised.
Think about how they communicate...what will you need? Visuals/videos/power points/a practical activity as well as keywords or without?
What does the autistic person want help with? What's important to them and our expectations can be very different. Always involve the young person in the decision. Try using the Socialising Questionnaire or Autism Education Trust Priorities Questionnaire.
Here are some examples to get you started:
Play! Boardgames, emotions flashcards/bingo, conversation cards/cubes,

Practice having a conversation using different topics - start with their favourite topic!

Observe how they might be learning social cues - this might be through watching peers/adults/programmes/Youtubers™/TikTok™

Use Social Stories™ to aid understanding. Start with a positive story about the child themselves. See Carol Gray™

Use Comic Strip Conversations™ or Power Cards™ to give clear visual explanations of events/situations.

Practice role playing different scenarios with different people in different contexts.

Peer awareness/circle of friends/clubs.

Try using resources from the Talkabout Programmes

Practice going into a shop/cafe and buying/ordering something (that the child/young person is really interested in). Use social scripts as prompts.

Read Louise Richards Blog on 'What I wish I knew about making friends' available via Ambitiousaboutautism

'Social story' and 'social stories' are trademarks originated and owned by Carol Gray™
For Conversation Cubes and other Emotional Social Learning toys go to